Thanksgiving is a hallowed American tradition filled with family, food, football and fun, but did you know we can attribute its creation largely to the military?
While conventional wisdom dates the first Thanksgiving back to 1621, when pilgrims in Plymouth, Massachusetts, joined in with local Native Americans to celebrate the fall harvest, it wasn't a celebration that continued from year to year.
In fact, Thanksgiving didn't really become any kind of tradition until we were trying to unify the nation during two of our biggest early struggles – the Revolutionary War and the Civil War.
Inspiring Our Troops, Bringing Unity
During the revolution, the Continental Congress decided to declare several days of thanksgiving to help inspire our troops to victory. The first such day fell on Nov. 1, 1777, when news of some victories against the British reached their ears.
Gen. George Washington also called for a day of thanksgiving on Dec. 18, 1777, as a victory celebration for the colonial army's win during the Battle of Saratoga that October. He later issued the first formal Thanksgiving Day proclamation for the U.S. when he was president, setting the date for Nov. 26, 1789.
While that date fell around that of our current-day holiday, Thanksgiving still failed to become an annual tradition until about 75 years later – when President Abraham Lincoln decided to renew the celebration in 1863, during the height of the Civil War.
Even as war raged across the country, Lincoln called for a day of thanks to be held on the last Thursday in November. The day would be known as Thanksgiving – and the tradition finally became official.
For many years, the presidents who came after Lincoln kept Thanksgiving on that final Thursday of the month. But during World War II, there were two years in a row in which November had five Thursdays, confusing a lot of people and causing a lot of arguments about which date Thanksgiving would fall on.
In 1942, Congress passed a resolution to clarify that every fourth Thursday of November would be Thanksgiving Day.
Making Sure Our Troops Celebrate, Too
As all service members know, not everyone in the military can stop what they're doing to celebrate the holiday. But preparations have always been made to make sure service members could celebrate in some capacity, even if they were deployed or on the battlefield.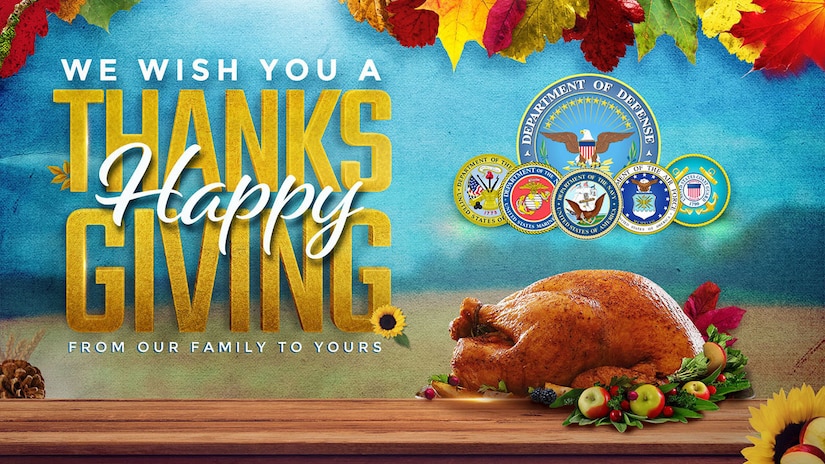 During World War I, the Red Cross and other auxiliary organizations started providing Thanksgiving aid to soldiers, while families in places like France, where our soldiers were stationed, would take them into their homes for the day.
During World War II, C- or K-rations were replaced with turkey and cranberry for the holiday. It was either shipped in by the military or collected from local farmers. Nowadays, the Defense Logistics Agency is able to ship out a traditional Thanksgiving dinner of turkey, pumpkin pie and all the fixins to tens of thousands of service members across the world.
Deployed service members have also seen some commanders in chief roll through their bases during the holiday. President George H.W. Bush served Thanksgiving dinner to troops stationed in Saudi Arabia in 1990 ahead of the Gulf War, while his son, President George W. Bush, did the same in a surprise visit to Baghdad in 2003, at the height of the Iraq War. President Barack Obama made a surprise visit to Afghanistan just after the Thanksgiving holiday in 2010.
No matter where you're celebrating Thanksgiving this year, know that the tradition grew out of your predecessors' efforts to bring unity to the United States. We can all be thankful for that!
BY Katie Lange – Article Credit