Monthly News & Updates
 Keep up to date with host Denny Gillem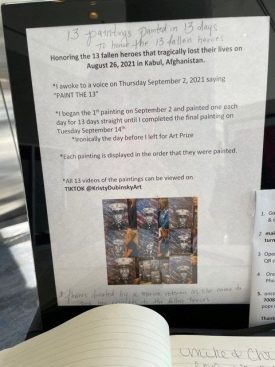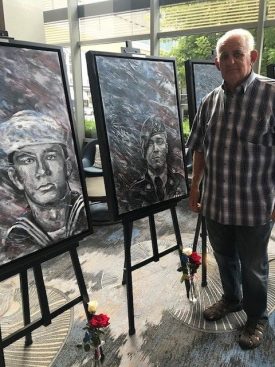 Around Hometown USA this week hit close to home. Matter of fact right at home as an International Art Event known as Artprize wraps up in Grand Rapids, Michigan. Col. Denny Gillem (LTC, US Army, Ret) and wife Marylin hit the town to share with us their experience, including their favorite exhibit.
What is Artprize? "ArtPrize® is an open, independently organized international art competition which takes place in Grand Rapids, Michigan. It celebrates artists working in all mediums from anywhere in the world and is open to any creative with an artwork to enter and a venue willing to host it.
For 18 days, art is exhibited throughout the city in public parks and museums, in galleries and vacant storefronts, in bars and on bridges.
ArtPrize awards $450,000 directly to artists, through grants to support their ambitious work and through prizes which the public decides through the ArtPrize website.
Since its inception in 2009, millions have participated in ArtPrize, displaying their work, opening their spaces to artists and visitors from around the world, and sparking countless conversations about what art is and why it matters. "Source: https://www.artprize.org/about
A special Exhibit and one that hits close to home shined brightly at the JW Marriot.
https://www.marriott.com/hotels/travel/grrjw-jw-marriott-grand-rapids/
Kristy Dubinsky from Irwin, PA is both an artist and an educator. Her vision to paint the piece came to her after waking to a voice on Thursday September 2, 2021. "Paint the 13."
"I began the 1st painting on September 2nd and painted one each day for 13 days straight until I completed the final painting on Tuesday, September 14th. Ironically this was the same day I left for ArtPrize. Each painting is displayed in the order of which I painted them. " – Kristy Dubinsky
"It's always a pleasure to see the many very different works of art at ArtPrize. This year the photos of the service members who were killed during the extremely poorly executed withdrawal from Afghanistan was the display that touched me the most. Those young men and women gave their lives while serving our country. They and their families deserve all the honor and respect our nation can provide." – Col Denny Gillem
Do you have a place or story we should be aware of for Hometown USA? Share it with us by emailing frontlinesoffreedommarketing@gmail.com.
If you are reading this and interested in learning more or potentially joining us on our next visit? Reach out to frontlinesoffreedommarketing@gmail.com to learn more.
Stay tuned for more updates and Col. Denny Gillem, "Around Hometown USA" sightings and blog posts in the coming days. We are committed to sharing the people, places and spaces supporting our men and women in the military and law enforcement.
Do you have a place or person we should talk to? Email us at frontlinesoffreedommarketing@gmail.com.