11 November is Veterans Day

Please make recognition of Veterans Day a regular part of your family's culture.  There are lots of ways to do that, but please make sure that patriotism and honoring our military are a part of what your children learn at home—because they may not learn it anywhere else.
Equal Opportunity in Our Military – NOT
This says it all and needs to be understood by all Americans.
Trey Gowdy, former South Carolina Congressman, responded to a question from a CNN reporter about the ban of transgenders from joining the US armed forces.  As Trey typically does so very well, he nailed it rather succinctly. He does not mince words.
Question: "How can President Trump claim to represent all US citizens, regardless of sexual orientation, when he banned transgenders from joining the military?  Isn't that discrimination?"
Trey Gowdy's response: "Nobody has 'a right' to serve in the military.  Nobody!  What makes you people think the military is an equal opportunity employer?  It is very far from it – and for good reasons – let me cite a few:
The Military uses prejudice regularly and consistently to deny citizens from joining—for being too old or too young, too fat or too skinny, too tall or too short.  Citizens are denied for having flat feet, or for having missing, or additional, fingers."  He went on to explain: "By the way, poor eyesight will disqualify you, as well as bad teeth.  Malnourished?  Drug addiction?
Bad back?  Criminal history?  Low IQ?  Anxiety?  Phobias?  Hearing damage?  Six arms?  Hearing voices in your head?  Self-identification as a Unicorn?  Need a special access ramp for your wheelchair?  "Can't run the required course in the required time?  Can't do the required number of push-ups?  Not really a morning person?  and refuse to get out of bed before noon?  All can be legitimate reasons for denial
"The Military has one job:  Winning Wars.  Anything else is a distraction and a liability.
Did someone just scream?  That isn't Fair?
War is VERY unfair; there are no exceptions made for being special or challenged or socially wonderful.  "YOU must change yourself to meet Military standards and not the other way around.    "I say again: You don't change the Military – you must change yourself.
The Military is not about being fair, it is about taking advantage of others and about winning.  "The Military doesn't need to accommodate anyone with special issues.  The Military needs to Win Wars and keep our Country safe – PERIOD!
"If any of your personal issues are a liability that detract from readiness or lethality…Thank you for applying and good luck in future endeavors.
"Any other questions?"
No God in our Congress
The House of Representatives seems to have removed any reference to God from all their activities, including when swearing in people to testify before them.  Apparently, none of the leadership in the house has any concept of our Constitution or Declaration of Independence or of our history.  This is beyond shameful.
VA Whistleblowers Are Hurting
Brandon Coleman, a Marine vet and VA Whistleblower, has been a guest on FoF many times.  He was brought into the new Whistleblower Protection office when President Trump started it.  Coleman says the office worked very well—until the first of this year.  Here's a report from the Washington Post.
"Brandon Coleman, a former VA whistleblower who was recruited to serve as the office's first whistleblower program specialist and to develop mentoring, education and outreach programs, said in an email that "under current leadership all of that is gone."
"As a noted VA whistleblower who supports President Trump I will say it is a scary time to be a whistleblower within the federal government," Coleman said in a statement. The office "was how we were finally supposed to get it right for VA Whistleblowers and instead we are currently failing them."
Movie Assignment

Remember, this month's film review; I assign a film to watch each month—and give you a link to it; you're invited to email in your comments—and we'll review it on the last show of the month.  Share the link with your friends or tell them that they can find the link on the Blog section of FrontlinesOfFreedom.com.

The movie is. Ma (mother).

Here's the link; you can watch it for free: https://www.youtube.com/watch?v=aRBsuJv-6a0
Frontlines of Freedom Sponsors:
These great folks advertise on-air during our show.
Please support them as they support veterans and Frontlines of Freedom.

HelpVet.Net

Empowering service members, veterans, their families, survivors and the entire military community with a wide variety of benefits, resources & company discounts.

MDV ~ A SpartanNash Company

We Exist to Serve America's Heroes

Our products bring a piece of home to wherever military personnel are stationed.

Honor and Remember

Proudly supported by SpartanNash

Our mission is to perpetually recognize the sacrifice of America's military fallen service members and their families.

SpartanNash
A value-added wholesaler that supplies more than 2,100 independent grocery stores throughout the U.S.

They also operate more than 140 corporate supermarkets in 8 states.
Features
Special Ops Guys Take Baghdadi – Video
What does it look like when US special operations forces move in on the compound of a long-hunted terrorist? A video newly released by the Pentagon gives a sneak-peak.
A series of videos, released during a press conference, show members of the Army's elite Delta Force on Oct. 26 moving towards the compound in Syria occupied by ISIS leader Abu Bakr al-Baghdadi.
Pursued into a series of tunnels by US troops, including a military working dog, Baghdadi detonated a suicide vest, killing himself and three chidren officials said he used as human shields.
Baghdadi, the self-declared ISIS "caliph," was the subject of a $25 million bounty for information leading to his death or capture.
Snowball Express
You might recognize actor Gary Siniese from movies such as Forest Gump and The Green Mile, but the celebrity has another passion: honoring and helping US military veterans and their families. He founded the Gary Sinise Foundation in 2011, a charity that creates unique programs designed to "entertain, educate, inspire, strengthen, and build communities." One of those programs is Snowball Express, a special initiative that provides free trips for children of fallen soldiers.
Burial at Arlington
Army Secretary Ryan McCarthy on Sept. 25 announced new criteria for interment (burial) and internment (preservation of cremated remains) at Arlington National Cemetery to keep from running out of space in the nation's most hallowed military cemetery.
Congress called on the Army to revise the criteria for burial at the cemetery in the 2019 National Defense Authorization Act, with the goal to keep it functioning as an active burial ground for another 150 years. That's not possible under present rules.
Today, some 95,000 burial spaces remain available, but with more than 20 million living veterans and 2 million military members currently serving, the population of potential eligibles keeps growing. Without changes to eligibility, the cemetery will be full by the mid-2050s, according to the Army.
Today, any Active Duty member or veteran with at least one day of active service is eligible for burial at Arlington.
Under the proposed new rules, below-ground interment will be limited to presidents and vice presidents, as well as military members or veterans:
Killed in action, including repatriated remains of service members
Awarded the Silver Star or service Cross or Medal of Honor
Awarded the Purple Heart
Suffering combat-related service deaths during "unique" military activities
Formerly held as prisoners of war
Or who served in combat and also served out of uniform in government and "made significant contributions to the nation's security at the highest levels of public service."
Those eligible to be interned above ground must be either:
World War II-era veterans, including legislated active duty designees
Retirees from the military who are eligible for retirement pay but not eligible for interment
Veterans who served at least two years on active duty and served in combat
Or veterans who did not serve in combat, but did serve out of uniform in government service and "made significant contributions to the nations security at the highest levels of public service."
A notice of the new rules will be posted for public comment in the Federal Register within the next nine months, according to the cemetery.
At the same time, the cemetery is planning a large expansion of the grounds on the southern side of the cemetery, including the area surrounding the Air Force Memorial. The expansion will add another 60,000 new burial plots and a large new columbarium for cremated remains.
Supercarrier USS Ford has yet More Problems
The military's most expensive ship hit what Navy officials are calling a significant milestone when it returned to its Virginia homeport.
The aircraft carrier Gerald R. Ford is back in Naval Station Norfolk after several setbacks in getting new technology on the ship working, some of which remains ongoing.
Despite the setbacks — including 15 months of maintenance at Newport News Shipbuilding where the ship was built — the Navy say the first Ford-class carrier will be "the centerpiece of national defense in an increasingly complex security environment."
"USS Gerald R. Ford is the most technologically advanced, most lethal combat platform in the world," Rear Adm. James Downey, the program executive officer for Navy aircraft carriers, said in a statement. "Everyone, from the highest levels of government to the crew working the deck plates, is laser focused on this aircraft carrier being ready to enter fleet service."
The ship's hefty $13 billion price tag and many maintenance delays have certainly caught flak from leaders in Washington.
President Trump once called the Ford's Electromagnetic Aircraft Launch System known as EMALS "no good," saying he'd mandate that future carriers return to the legacy steam catapult system. And Rep. Elaine Luria, a Virginia Democrat and retired Navy surface officer, recently referred to the ship as a $13 billion floating berthing barge.
Navy leaders don't deny there have been challenges. But Vice Chief of Naval Operations Adm. Robert Burke told reporters last week the service and shipbuilder had made "some significant strides in the last 15 months."
VA and Wasted Funds on Training
When the new whistleblower and accountability-focused office at the troubled Department of Veterans Affairs (VA) opened its doors in 2017, it was supposed to help change the agency's longstanding culture of retaliation against whistleblowers who speak out about waste and abuse in the agency that cares for our nation's veterans. But since then, insider accounts have shown that accountability is still sorely lacking within the VA, and within the Office of Accountability and Whistleblower Protection (OAWP) itself.
Medal of Honor Awarded
President Trump awarded the nation's highest military honor to an active duty Green Beret for his heroic actions while serving in Afghanistan's Shok Valley in 2008, according to the White House.
Army Master Sgt. Matthew Williams, of Boerne, Texas, was critical in ensuring the evacuation of his wounded teammates from a mountain as the unit took fire from insurgents.
"Sergeant Williams' actions helped save the lives of four critically wounded soldiers and prevented the lead element of the assault force from being overrun by the enemy," the Oct. 10  White House statement said.
Williams was serving as a weapons sergeant with Special Forces Operational Detachment Alpha (ODA 3336) when the incident occurred. He was initially awarded the Silver Star for his actions, but it was determined that the award will be upgraded by the president on Oct. 30, after a review of valor awards that began under former Defense Secretary Ash Carter in 2016.
Superbowl 39
"This is the NFL opening ceremony for Super Bowl 39. No kneeling, no hiding in locker rooms and no trashing America.  There were even two former presidents from different political parties standing together to salute America.  We need to return to those days.
VA Police Force A Problem, too
The Department of Veterans Affairs announced a major overhaul of the structure and management of its police force, in response to scathing watchdog reports on waste and poor oversight that led to lapses in security for patients and staff.
The announcement by the VA said that the police force of about 4,200 would be realigned at its hospitals and other facilities in a "critical step forward," following recommendations by the VA's Office of Inspector General and the Government Accountability Office.
"The realignment will be the most extensive since the creation of the police force and will fundamentally change standardization and oversight across the enterprise," VA Secretary Robert Wilkie said in a statement.
"This highlights my commitment to the high standards of professionalism and transparency across the department," which the GAO and IG's reports said had been lacking in management of the police force, he added.
The two watchdog reports last year detailed short-staffing in the police ranks, millions in wasted overtime, and failures of inspections and oversight caused by a confusing command structure in which individual executives in the Veterans Health Administration (VHA) set differing standards for policing at hospitals.
"The governance problems stemmed from confusion about police program roles and authority and a lack of a centralized management or clearly designated staff within VHA to manage and oversee the police program," the IG's report said.
F-16 Training Crashes
An F-16 Fighting Falcon crashed during a routine training flight late last month night near Holloman Air Force Base, New Mexico, according to the Air Force.
The pilot was able to eject from the aircraft and is being treated at a local hospital, base officials said in a news release. The F-16, assigned to the 49th Wing, went down at around 7:16 pm just 80 miles southeast of the base.
Emergency services responded to the scene. The cause is under investigation.
While the base has housed MQ-9 Reaper remotely piloted aircraft since 2009, Holloman has some F-16s for pilot training.
And, earlier last month, an F-16 assigned to Spangdahlem Air Base crashed in Germany. The pilot was able to eject and was rescued with minor injuries.
Spangdahlem's 52nd Fighter Wing temporarily paused flying operations following the crash and ended a flight exercise two days early.
Medal of Honor Puck-drop
Nothing will make your heart soar like hearing the "The Star-Spangled Banner" ring out at a sporting event, so when 46 living Medal of Honor recipients descended upon the Amalie Arena in Tampa, Florida for a puck drop at a recent hockey game, we're guessing it probably felt a million bald eagles screaming "America!" all at once. The Tampa Bay Lightning hosted 46 of the nation's 70 living Medal of Honor recipients at the team's game against the Pittsburgh Penguins.
Corporal Hershel W. "Woody" Williams, USMC (Ret.) was awarded the Medal of Honor on Oct. 3, 1945 by President Harry Truman for his bravery in the Battle of Iwo Jima.
At 96, Mr. Williams is the second-oldest living Medal of Honor recipient.
The attendees included nine veterans from the Global War on Terrorism, 34 from Vietnam, two from the Korean War, and WWII veteran Woody" Williams. During the Battle of Iwo Jima, Williams repeatedly assaulted Japanese bunkers and fighting positions armed with a flamethrower and demolition charges in order to clear the way for Marines who remained pinned down under brutal enemy fire.
To mark the start of the game, Williams — joined by his fellow recipients, sporting matching Lightning jerseys — conducted the ceremonial puck drop:
Tonight, the announcer said, we were privileged to honor and recognize 46 of the 70 living recipients of the Congressional Medal of Honor.
For fighting for us, for not expecting anything in return, for your bravery… Thank you
"What these gentlemen have accomplished and what they've given to our country is unbelievable," Lightning's owner Jeff Vinik told the Tampa Bay Times. "This isn't just the Lightning and Amalie Arena hosting these heroes here. This is the entire community who's made them feel at home."
Russian Drones and EW impacted
International economic sanctions are taking a toll on Russia's ability to use drones and conduct electronic warfare against Ukrainian forces, according to a top Ukrainian military official.
Col. Ivan Pavlenko, deputy chief of Combat Support Units of the Joint Forces Headquarters, Joint Staff Armed Forces of Ukraine, said that the penalties have impacted Russian forces' ability to repair and upgrade high-scale weapons that help locate Ukrainian soldiers and their equipment.
"Sanctions [are] like a virus," he said following his speech at the Association of Old Crows' Symposium. Military.com spoke with Pavlenko after his keynote speech at the nonprofit organization's conference in Washington, DC, about the applications of electronic warfare in East Ukraine.
The Pentagon has long watched the war in Ukraine as a blueprint for where it could apply its own lessons and has issued studies that could help service members understand where and how an attack manifests on the electromagnetic spectrum — and how best to deny the adversary.
Russian-backed separatists have been jamming signals to misdirect or take out commercial drones Ukrainian soldiers use to conduct aerial surveillance.
During his speech, Pavlenko said Russia has been able to best even some of the simplest technologies both countries use, such as radio repeaters. In 2015, Russian forces were able to infect repeaters — which act as a both a radio receiver and transmitter to resend signals at longer distances — with a virus. Russia has jammed radio frequency bands and frequently targeted Ukrainian soldiers' smartphones, blocking cell phone signals as far as 20 miles from their frontline positions. They also send taunting text messages.
The US Constitution
When members of our Armed Forces are sworn in, we all take an oath to support and defend the Constitution of the US against all enemies, foreign and domestic.  The entire document, including all amendments, takes slightly less than 7600 words.  We veterans and, indeed, all patriots, should read this document over and over again.  It's not complicated.
Do we really want un-elected Supreme Court Justices re-writing the Constitution any time five of them want to see a change?  That's what happens.  The Constitution says that Congress writes and amends laws—but that's ignored.
There are two national organizations that are focused on making our nation aware of, and practicing, the Constitution—and I'm active in both of them.  First is Concerned Veterans for America (cv4a.org).  Then, there's Combat Veterans for Congress (CVC.org).
God Loves Us
Scott McChrystal is a retired Army Colonel, Chaplain.  Here are some of his insights that I think you'll find appropriate.
WANTED: BETTER LEADERS!
Across our increasingly complex world, cries go out for better leaders – every nation, every conceivable kind and level of organization – the desperate need is for better leaders.
There is certainly no lack of material being produced telling others how to become better leaders. The results, however, have not been record-setting. Consensus seems to report that leadership across the board is not improving. If anything, it might even be in decline.
Is there an explanation? I believe there is.
So, what is the real issue? Point blank: the world at large does not take Jesus seriously as a leader. People may look to Jesus for wisdom and encouragement, but they don't believe Jesus has the practical knowledge to solve the "real life" issues relating to finances, health, crime, education, environment, etc.
Jesus Christ is the best leader who ever walked the planet. John's Gospel reports this about Jesus:
Through him all things were made; without him nothing was made that has been made. John 1:3 (NIV)
Wise Words
Retired Navy CAPT Joe John has done many things in his life; I've asked him to share a few words of wisdom with us:
Civil War History
Here are some questions on the Civil War; we'll post the answers in the next newsletter.
Here are the answers to the last issue's questions:
Which southern states had at least one unit fight for the Union?

All of them

What famous American literary icon served briefly in the Marion County Missouri Confederate Rangers?                      

Samuel Clemmons (Mark Twain).

At the battle of Chancellorsville, along what major thoroughfare was General Jackson's (CSA) attack made on the Union right flank?

Orange Turnpike.
Here are the new questions:
1, During what years was the Civil War fought?
2, Who was the president of the US during the Civil War?
3, Who was the first president of the Confederate States of America?
Military Music
Toby Keith's American Soldier
Frontlines of Freedom Gear
If you'd like to have a Frontlines of Freedom shirt or hat or whatever, we do have it for you.  Check our store at   http://fof.logoshop.com/
Two quotes to consider.
Only our individual faith in freedom can keep us free. 
Dwight D. Eisenhower
I don't know what effect these men will have upon the enemy, but, by God, they terrify me.
The Duke of Wellington
Programming:  You'll want to tune into the show (live or by podcast).
9-15 Nov:  American Legion National Commander Bill Oxford will discuss the Legion and Veterans Day.  Then we'll discuss the concept of "endless wars" with Concerned Veterans for America.  And we'll review the previous week's Service Academy Football games.
16-22 Nov:  Army Combat Vet John James will discuss Veterans Day and challenges facing America.  Author Brian Kilmeade will discuss his outstanding book, Sam Houston and the Alamo Avengers.  Then Chaplain Roger Bouma will share about healing invisible wounds.  And we'll review the previous week's Service Academy Football games.
Advertising on Frontlines of Freedom's Website and Newsletter:
We encourage you to patronize our advertisers; they are keeping Frontlines of Freedom alive and well.  You can advertise on-air (as a show sponsor) or only on our website and in this newsletter.  If you or someone you know would like to advertise on Frontlines of Freedom please contact me at denny@frontlinesoffreedom.com.
| | | |
| --- | --- | --- |
| | Â | |
Steenstra's Windmill Cookies by Cookies Unique   The best almond windmill cookies you'll ever eat! Plus, Cookies Unique also bakes cookies with a company logo on the cookie and a company message on the box. A delicious promotional item, and a good value.     cookiesunique.net
Culver CPA Group, CPAs and Business Advisors.  We go beyond the numbers. Two locations to serve you.  Grand Rapids: 616-456-6464.  Wyoming: 616-257-01009.  CulverCPAGroup.com
Humor
This came in from a really old artilleryman.
EATING IN THE FIFTIES  (1950's, that is)
Pasta had not been invented. It was macaroni or spaghetti.
Curry was a surname.
Taco? Never saw one till I was 15.
All chips were plain.
Oil was for lubricating, fat was for cooking.
Tea was made in a teapot using tea leaves and never green.
Cubed sugar was regarded as posh.
Chickens didn't have fingers in those days.
None of us had ever heard of yogurt.
Healthy food consisted of anything edible!
Cooking outside was called camping.
Seaweed was not a recognized food.
'Kebab' was not even a word, never mind a food.
Sugar enjoyed a good press in those days, and was regarded as being white gold.
Prunes were medicinal and stewed.
Surprisingly Muesli was readily available It was called cattle feed.
Pineapples came in chunks or were round with a hole in the middle, in a tin; we had only ever seen a picture of a real one.
Water came out of the tap. If someone had suggested bottling it and charging more than gasoline for it, they would have become a laughing stock.
There were three things that we never ever had on/at our table in the fifties:  elbows, hats and cell phones!
……..and there were always two choices for each meal…
"Take it" or Leave it"
A Couple Interesting Photos – and A Funny One Too
This shopping cart has a calculator so you know how much you're spending.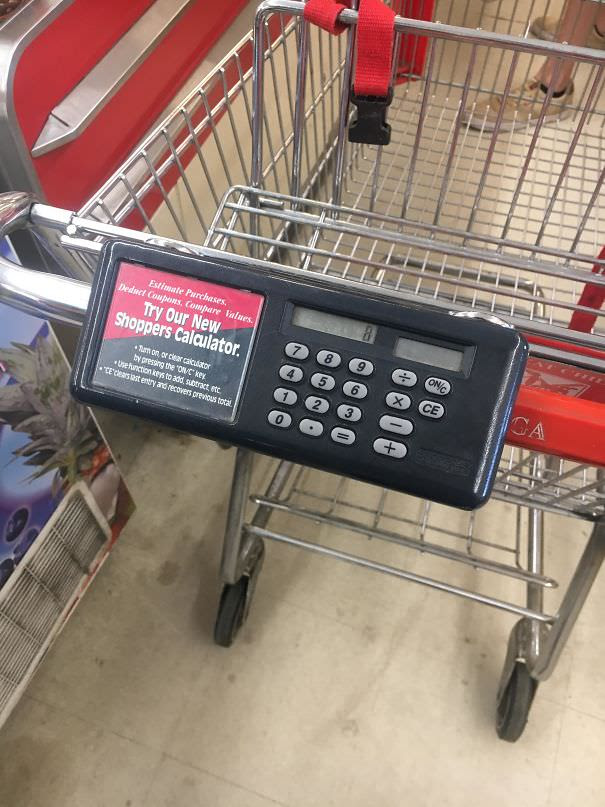 This bar has a frost strip so you can keep your drink cold.

Listen to Frontlines of Freedom every week on these great radio stations:
---
Station
Freq.
Band
City
State
Day(s)
Time(s)
Time
Zone
WANI
1400
AM
Auburn
AL
Saturdays
9pm-11pm
CT
WANI
98.7
FM
Auburn / Opelika
AL
Saturdays
9pm-11pm
CT
WKUL
92.1
FM
Cullman
AL
Sundays
8pm-10pm
CT
WKUL
97.9
FM
Cullman
AL
Sundays
8pm-10pm
CT
WFPA
1400
AM
Fort Payne
AL
Saturdays
10am-12pm
CT
WACV
93.1
FM
Montgomery
AL
Sundays
11am-1pm
CT
KVNT
1020
AM
Anchorage
AK
Saturdays
8am-10am
AKT
KVNT
92.5
FM
Anchorage
AK
Saturdays
8am-10am
AKT
KDJI
1270
AM
Holbrook
AZ
Sundays
1pm-3pm
MST
KVWM
970
AM
Show Low
AZ
Sundays
1pm-3pm
MST
KURM
100.3
FM
Fayetteville / Gravette
AR
Saturdays
3pm-5pm
CT
KURM
790
AM
Fayetteville / Rogers
AR
Saturdays
3pm-5pm
CT
KFPW
1230
AM
Fort Smith
AR
Sundays
3pm-5pm
CT
KFPW
96.7
FM
Fort Smith
AR
Sundays
3pm-5pm
CT
KDXE
101.1
FM
Little Rock
AR
Saturdays
5pm-7pm
CT
KUHL
106.3
FM
Los Alamos
CA
Saturdays
10am-12pm
PT
KPRL
1230
AM
Paso Robles
CA
Saturdays
2pm-4pm
PT
KCNR
1460
AM
Redding
CA
Sundays
5pm-6pm
PT
KNCO
830
AM
Sacramento
CA
Sundays
4pm-6pm
PT
KVTA
1590
AM
Santa Barbara
CA
Sundays
8:30am-9am
PT
KUHL
1440
AM
Santa Maria
CA
Saturdays
10am-12pm
PT
KRDO
1240
AM
Colorado Springs
CO
Sundays
9pm-11pm
MT
KRDO
105.5
FM
Colorado Springs
CO
Sundays
9pm-11pm
MT
KRFD
100.1
FM
Fleming
CO
Sundays
10am-12pm
MT
WGCH
1490
AM
Stamford / Norwalk
CT
Saturdays
7pm-8pm
ET
WGMD
92.7
FM
Rehoboth Beach
DE
Sundays
4pm-6pm
ET
WWRC
570
AM
Washington
DC
Saturdays
4pm-6pm
ET
WYOO
101.1
FM
Panama City
FL
Saturdays
4pm-6pm
CT
WLSS
930
AM
Sarasota / Bradenton
FL
Saturdays
2pm-4pm
ET
WLSS
93.7
FM
Sarasota / Bradenton
FL
Saturdays
2pm-4pm
ET
WLSS
103.1
FM
Sarasota / Bradenton
FL
Saturdays
2pm-4pm
ET
WGUL
860
AM
Tampa / St. Petersburg
FL
Sundays
1am-3am
ET
WGKA
920
AM
Atlanta
GA
Sundays
11pm-1am
ET
KUSG
1350
AM
Agana
GU
Sundays
9pm-11pm
CT
KUSG
93.3
FM
Agana
GU
Sundays
9pm-11pm
CT
KUSG
104.3 HD3
FM
Agana
GU
Sundays
9pm-11pm
CT
KBAR
1230
AM
Burley / Twin Falls
ID
Saturdays
4pm-6pm
MT
KBRV
92.7
FM
Montpelier
ID
Sundays
3pm-5pm
MT
KBRV
800
AM
Soda Springs
ID
Sundays
3pm-5pm
MT
WRPW
92.9
FM
Bloomington
IL
Sundays
5am-6am
CT
WRTL
1610
AM
Carbondale
IL
Saturdays
9pm-11pm
CT
WJIL
1550
AM
Jacksonville
IL
Sundays
11pm-12am
CT
WTRH
93.3
FM
Ramsey
IL
Saturdays
5am-6am &
10pm-11pm
ET
WFDM
95.9
FM
Indianapolis / Franklin
IN
Saturdays
10pm-12am
ET
WXLW
950
AM
Indianapolis
IN
Saturdays
10pm-12am
ET
WSHY
1410
AM
Lafayette
IN
Sundays
6am-8am
ET
WSHY
104.3
FM
Lafayette
IN
Sundays
6am-8am
ET
KRMR
105.7
FM
Hays
KS
Sundays
10pm-12am
CT
KNNS
1510
AM
Larned
KS
Sundays
10pm-12am
CT
KSCB
1270
AM
Liberal
KS
Sundays
4pm-6pm
CT
KSAL
1150
AM
Wichita / Salina
KS
Sundays
5am-7am
CT
KKLE
1550
AM
Wichita / Winfield
KS
Saturdays
4pm-6pm
CT
WZXI
1280
AM
Lancaster
KY
Saturdays
11am-1pm
ET
WZXI
94.1
FM
Lancaster
KY
Saturdays
11am-1pm
ET
WZXI
95.5
FM
Lancaster
KY
Saturdays
11am-1pm
ET
WVLK
590
AM
Lexington
KY
Sundays
2pm-4pm
ET
WVLK
97.3
FM
Lexington
KY
Sundays
2pm-4pm
ET
WCAP
980
AM
Lowell
MA
Wednesdays
6pm-7pm
ET
WBCK
95.3
FM
Battle Creek
MI
Saturdays
6pm-8pm
ET
WBRN
1460
AM
Big Rapids
MI
Saturdays
Sundays
7pm-9pm
12pm-2pm
ET
WBRN
107.7
FM
Big Rapids
MI
Saturdays
Sundays
7pm-9pm
12pm-2pm
ET
WDTK
1400
AM
Detroit
MI
Saturdays
11pm-1am
ET
WDTK
101.5
FM
Detroit
MI
Saturdays
11pm-1am
ET
WOOD
1300
AM
Grand Rapids
MI
Sundays
8pm-10pm
ET
WOOD
106.9
FM
Grand Rapids /
Muskegon
MI
Sundays
8pm-10pm
ET
WGRY
101.1
FM
Grayling
MI
Sundays
7am-9am
ET
WKZO
590
AM
Kalamazoo
MI
Sundays
8am-9am
ET
WKZO
106.9
FM
Kalamazoo
MI
Sundays
8am-9am
ET
WILS
1320
AM
Lansing
MI
Sundays
12am-1am
ET
WYPV
94.5
FM
Mackinaw City
MI
Saturdays
8pm-10pm
ET
WJML
1110
AM
Petoskey
MI
Saturdays
8pm-10pm
ET
WHAK
960
AM
Rogers City
MI
Saturdays
8pm-10pm
ET
WIOS
1480
AM
Tawas City
MI
Sundays
4am-6am
ET
WIOS
106.9
FM
Tawas City
MI
Sundays
4am-6am
ET
WWMN
106.3
FM
Thompsonville
MI
Saturdays
8pm-10pm
ET
WJNL
1210
AM
Traverse City
MI
Saturdays
8pm-10pm
ET
WJNL
101.1
FM
Traverse City
MI
Saturdays
8pm-10pm
ET
WPNW
1260
AM
Zeeland
MI
Saturdays
3pm-4pm
ET
WPNW
96.5
FM
Zeeland
MI
Saturdays
3pm-4pm
ET
WPNW
98.9
FM
Zeeland
MI
Saturdays
3pm-4pm
ET
KAUS
1480
AM
Austin
MN
Sundays
4pm-6pm
CT
KBRF
1250
AM
Fergus Falls
MN
Saturdays
Fridays
6pm-8pm
9am-10am
CT
KNSI
1450
AM
Saint Cloud
MN
Saturdays
6pm-8pm
CT
KNSI
99.3
FM
Saint Cloud
MN
Saturdays
6pm-8pm
CT
KWNO
1230
AM
Winona
MN
Saturdays
5am-7am
CT
KWNO
98.7
FM
Winona
MN
Saturdays
5am-7am
CT
WJNT
1180
AM
Jackson
MS
Sundays
5am-7am
CT
WJNT
96.9
FM
Jackson
MS
Sundays
5am-7am
CT
KZIM
960
AM
Cape Girardeau
MO
Saturdays
7pm-9pm
CT
KZYM
1230
AM
Joplin
MO
Saturdays
4pm-6pm
CT
KXFN
1380
AM
St. Louis
MO
Sundays
5am-7am
CT
KXFN
105.3
FM
St. Louis
MO
Sundays
5am-7am
CT
KSIM
1400
AM
Sikeston
MO
Saturdays
7pm-9pm
CT
KSIM
101.7
FM
Sikeston
MO
Saturdays
7pm-9pm
CT
KYYA
730
AM
Billings
MT
Saturdays
6am-8am
MT
KINX
102.7
FM
Great Falls
MT
Sundays
4am-6am
MT
KCAP
950
AM
Helena
MT
Sundays
11am-1pm
MT
KCAP
95.9
FM
Helena
MT
Sundays
11am-1pm
MT
WSMN
1590
AM
Nashua-Manchester
NH
Saturdays
12pm-1pm
ET
KRSY
1230
AM
Alamogordo
NM
Sundays
10pm-11pm
MT
KENN
1390
AM
Farmington
NM
Saturdays
6am-7am
MT
KENN
92.1
FM
Farmington
NM
Saturdays
6am-7am
MT
WENI
1450
AM
Corning
NY
Saturdays
Sundays
8pm-10pm
5am-7am
ET
WENY
1230
AM
Elmira
NY
Saturdays
Sundays
8pm-10pm
5am-7am
ET
WIBX
950
AM
Utica-Rome
NY
Sundays
6am-8am
ET
WLOE
1490
AM
Eden
NC
Saturdays
10am-12pm
ET
WMYN
1420
AM
Mayodan
NC
Saturdays
10am-12pm
ET
WNOS
1450
AM
New Bern
NC
Saturdays
6am-8am
6pm-8pm
ET
WNOS
93.7
FM
New Bern
NC
Saturdays
6am-8am
6pm-8pm
ET
KLXX
1270
AM
Bismark
ND
Saturdays
5am-7am
CT
WZFG
1100
AM
Fargo
ND
Saturdays
9pm-11pm
CT
KTGO
1090
AM
Tioga
ND
Sundays
5am-7am
CT
KWON
1400
AM
Bartlesville
OK
Sundays
6pm-8pm
CT
KWON
93.3
FM
Bartlesville
OK
Sundays
6pm-8pm
CT
KCLI
99.3
FM
Cordell
OK
Sundays
6am-8am
CT
KZLS
1640
AM
Enid
OK
Saturdays
6pm-8pm
CT
KNAH
97.7 HD4
FM
Mustang
OK
Saturdays
6pm-8pm
CT
KOKC
1520
AM
Oklahoma City
OK
Saturdays
Sundays
4pm-5pm
8am-10am
CT
KOKC
95.3
FM
Oklahoma City
OK
Saturdays
Sundays
4pm-5pm
8am-10am
CT
KFIR
720
AM
Eugene / Springfield
OR
Saturdays
Sundays
8pm-10pm
11am-12pm
PT
KFLS
1450
AM
Klamath Falls
OR
Sundays
6pm-8pm
PT
KFLS
102.5
FM
Klamath Falls
OR
Sundays
6pm-8pm
PT
KMED
1440
AM
Medford / Ashland
OR
Sundays
6pm-8pm
PT
KMED
106.7
FM
Medford / Ashland
OR
Sundays
6pm-8pm
PT
KBNP
1410
AM
Portland
OR
Saturdays
11pm-1am
PT
KSLM
1220
AM
Salem
OR
Sundays
9am-11am
PT
KSLM
104.3
FM
Salem
OR
Sundays
9am-11am
PT
WJET
1400
AM
Erie
PA
Saturdays
6am-8am
ET
WJET
96.7
FM
Erie
PA
Sundays
11am-1pm
ET
WEJS
1600
AM
Jersey Shore
PA
Saturdays
10am-11am
ET
WEJS
104.1
FM
Williamsport
PA
Saturdays
10am-11am
ET
WTQS
1490
AM
Cameron
SC
Saturdays
1pm-3pm
ET
WQXL
1470
AM
Columbia
SC
Saturdays
1pm-3pm
ET
WQXL
100.7
FM
Columbia
SC
Saturdays
1pm-3pm
ET
WLFJ
660
AM
Greenville-Spartanburg
SC
Sundays
3pm-4pm
ET
WLFJ
92.9
FM
Greenville-Spartanburg
SC
Sundays
3pm-4pm
ET
WLSC
1240
AM
Loris
SC
Saturdays
Sundsy
5am-6am
5am-6am
ET
WRNN
99.5
FM
Myrtle Beach
SC
Saturdays
5am-6am
ET
WTQS
97.1
FM
Orangeburg
SC
Saturdays
1pm-3pm
ET
KOTA
1380
AM
Rapid City
SD
Saturdays
7am-7:30am
CT
KOTA
100.7
FM
Myrtle Beach
SD
7am-7:30am
5am-6am
CT
WBCR
1470
AM
Alcoa
TN
Sunday
7pm-9pm
CT
WGOW
1150
AM
Chattanooga
TN
Sunday
2pm-4pm
ET
WGOW
102.3
FM
Chattanooga
TN
Saturday
Sunday
2pm-4pm
2pm-4pm
ET
WVWB
1400
AM
Clarksville
TN
Saturday
11am-12pm
CT
WCLE
101.3
FM
Cleveland
TN
Sunday
8pm-9pm
ET
WCLE
1570
AM
Cleveland
TN
Sunday
8pm-9pm
ET
WGRV
1340
AM
Greeneville
TN
Saturdays
10pm-12am
ET
WGRV
95.5
FM
Greeneville
TN
Saturdays
10pm-12am
ET
WGRV
99.5
FM
Greeneville
TN
Saturdays
10pm-12am
ET
WETB
790
AM
Johnson City
TN
Saturdays
8pm-10pm
CT
WETR
760
AM
Knoxville
TN
Monday
3am-5am
ET
WETR
92.3
FM
Knoxville
TN
Monday
3am-5am
ET
KWAM
990
AM
Memphis
TN
Saturdays
1am-3am
CT
KWAM
107.9
FM
Memphis
TN
Saturdays
1am-3am
CT
KACT
1360
AM
Andrews
TX
Sundays
7pm-8pm
CT
KJCE
1370
AM
Austin
TX
Saturdays
9pm-11pm
CT
KBST
1490
AM
Big Spring
TX
Sundays
5pm-7pm
CT
KRNH
102.1
FM
Fredericksburg
TX
Sundays
7pm-9pm
CT
KNTH
1070
AM
Houston
TX
Saturdays
10pm-12am
CT
KNTH
103.3
FM
Houston
TX
Saturdays
10pm-12am
CT
KRNH
92.3 HD2
FM
Kerrville
TX
Sundays
7pm-9pm
CT
KRNH
104.3
FM
Kerrville
TX
Sundays
7pm-9pm
CT
KJJT
98.5
FM
Lamesa
TX
Saturdays
1pm-32pm
CT
KLVT
1230
AM
Levelland
TX
Saturdays
3pm-4pm
CT
KJDL
1420
AM
Lubbock
TX
Saturdays
5am-7am
CT
KJDL
98.7
FM
Lubbock
TX
Saturdays
5am-7am
CT
KURV
710
AM
McAllen
TX
Saturdays
5pm-7pm
CT
WCHV
107.5
FM
Chatlottesville
VA
Saturdays
8pm-10pm
ET
WCHV
1260
AM
Chatlottesville
VA
Saturdays
8pm-10pm
ET
WHEE
1370
AM
Martinsville
VA
Saturdays
4pm-6pm
ET
WMVA
1450
AM
Martinsville
VA
Saturdays
4pm-6pm
ET
WBLB
1340
AM
Pulaski
VA
Saturdays
3pm-4pm
ET
WBLB
107.5
FM
Pulaski
VA
Saturdays
3pm-4pm
ET
WFJX
910
AM
Roanoke
VA
Sundays
6am-7am
ET
WFJX
104.3
FM
Roanoke
VA
Sundays
6am-7am
ET
KXLE
1240
AM
Ellensburg
WA
Saturdays
4pm-6pm
PT
KBDB
96.7 HD3
FM
Forks
WA
Sundays
9am-11am
PT
KFLD
870
AM
Pasco
WA
Sundays
4pm-5pm
PT
KTTH
770
AM
Seattle
WA
Saturdays
Sundays
Sundays
Sundays
Sundays
4pm-5pm
5am-6am
12pm-2pm
4pm-5pm
9pm-11pm
PT
KSBN
1230
AM
Spokane
WA
Sundays
5am-6am
PT
KKWN
106.7
FM
Wenatchee
WA
Saturdays
6pm-8pm
PT
KWNC
1370
AM
Wenatchee
WA
Saturdays
6pm-8pm
PT
WCHS
580
AM
Charleston
WV
Saturdays
Sundays
2am-4am
10pm-12am
ET
WCHS
96.5
FM
Charleston
WV
Saturdays
Sundays
2am-4am
10pm-12am
ET
WOSH
1490
AM
Oshkosh
WI
Sundays
4pm-6pm
CT
KWNO
1230
AM
La Crosse
WI
Saturdays
5am-7am
CT
KVOW
1450
AM
Riverton
WY
Sundays
1pm-3pm
MT
---
Please visit our website athttp://www.frontlinesoffreedom.com

I would like to hear from you about people and stories you would like to have me cover in upcoming e-newsletters, or on the show
It is our mission to get to know the people that are supporting us, so please be sure to add a picture with your message. Please encourage other like-minded folks to do the same–especially those presently serving in our nation's military. If you know someone who would like to start receiving this e-newsletter, they can sign up on the homepage of our website.
Sincerely,
Lt. Col. Denny Gillem (Ret.)
Host, Frontlines of Freedom
denny@frontlinesoffreedom.com
(616) 432-9949